Dental implants are prosthetic replacements for missing teeth. According to ICOI (International Congress of Oral Implantologists) there are commonly three parts to what it is described as an implant: the implant device which is predominantly made of titanium (which is inserted into the bone), the abutment, and a dental crown or a denture which are connected to the implant through the abutment.
Replacing your missing teeth with dental implants and implant-retained teeth may allow you to live your life more fully. When your treatment is complete, you should be able to chew, speak, and socialize without experiencing the negative emotions that having missing teeth or hard-to-wear dentures can sometimes cause. Dental implants can also eliminate the need for denture adhesives.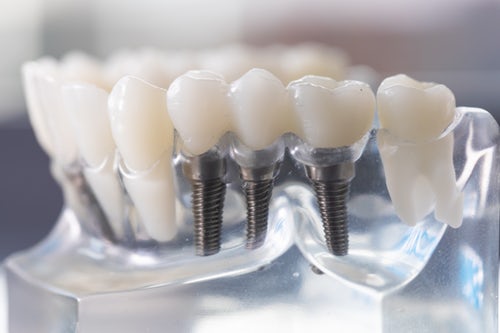 Dental implants and implant-retained teeth will help minimize the amount of bone that will be lost in the areas of missing teeth. Preserving jaw bone may help maintain your natural facial contours. Also, replacing your missing teeth may reduce the risk of having the poorer nutritional habits often found in patients who do not replace missing teeth.
Most patients can be treated with dental implants. We can evaluate your situation carefully with an exam and x-rays and will make specific recommendations for the best treatment. Call us today for more information on how you might benefit from dental implants and implant-retained teeth.